COMMENTARY
A lot has happened since we've last done this, and there's a good chance your turkey coma wiped out a few memories of the past week. That's alright. Here's a look back at the week that was that you can read while your leftovers are reheating.
Here's how it went
The Celtics won an overtime thriller over the Toronto Raptors thanks to a scintillating performance by Kyrie Irving. Yes, that was just over a week ago, though I can't blame you for thinking it was a lot longer. Kyrie scored 43 points on 18-of-26 shooting while also adding 11 assists, three rebounds, and three steals in the 123-116 win that some thought would be the beginning of a turnaround for Boston.
The Utah Jazz came into Boston the next night and wiped that smile off of everyone's faces, taking a big early lead, fighting off a Celtics comeback, and pulling away late to win 98-86. Donovan Mitchell and Ricky Rubio killed the Celtics, who got almost nothing out of anyone outside of Kyrie Irving. Brad Stevens made waves when he benched most of his starters early in the fourth quarter and the Celtics went on a brief Guerschon Yabusele/Brad Wanamaker-led run.
A road trip to Charlotte didn't provide much relief as the Celtics got torched by Kemba Walker, who dropped 43 points one game after scoring 60. Boston's early habit of falling behind big continued, but as usual they battled back behind big performances from Kyrie (27 points) and Jayson Tatum (20 points), but Walker scored 21 of his 43 points in the 4th quarter to hold Boston off.
Boston limped home to a welcome pre-Thanksgiving feast against the lowly Knicks, but it was the Celtics who were carved up, this time by Trey Burke, who scored 29 points off the bench. The Celtics cut a 16-point fourth quarter lead to three, but Burke hit a dagger with :12 left to send the Celtics to .500.
The Celtics snapped out of their funk in Atlanta Friday night, beating the Hawks 114-96. The biggest story was the 45 point first quarter from Boston, the fifth-highest first quarter scoring output in team history. The Celtics basically coasted from there, only turning it back on when Atlanta made runs.
The week ended with last night's loss to the Dallas Mavericks. Northeastern's own J.J. Barea was this game's "random player Boston lets go off" player, scoring 20 points off the bench and routinely burning the Celtics for easy layups. He actually took over for Luka Doncic, who looked absolutely dominant in the first quarter. Turnovers were Boston's biggest problem in this game, giving it up 18 teams, leading to 22 Dallas points.
The player of the week
See Your Boston Teams Up Close
Kyrie Irving averaged 24 points over the last six games on 47.2 percent shooting while adding 7.5 assists per game. He's had a few rough shooting nights recently (33.6 percent shooting over his last three games), but his performance against Toronto was on another level. The Celtics still need to find the right balance of Kyrie taking over and being a distributor, but his 7.5 assists per game this past week show he's still distributing.
The highlights of the week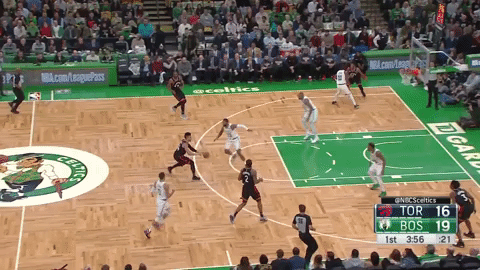 Kyrie's defensive effort has been very noticeable this season. He's active and it's paying off in transition points.
I'll also show you this, because you don't see it much around here.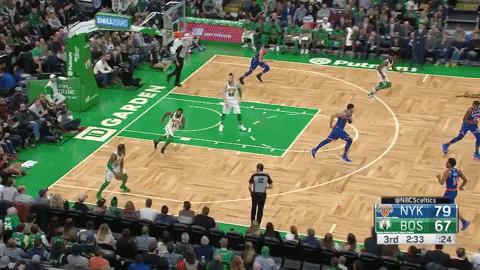 The Celtics might be the worst alley oop team in the league. Their timing is often horrible, so watching one work the way it's supposed is as beautiful as it is rare.
Guards going off
J.J. Barea was just one of the guards who got to tee off on the Boston Celtics.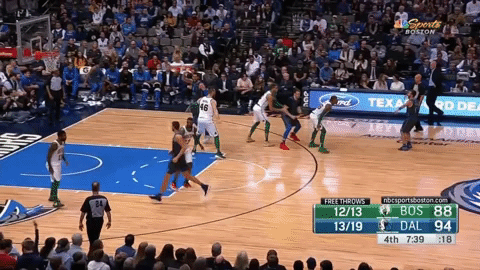 On this play Jayson Tatum is caught flat-footed and the tiny Barea glides past him for an easy layup on his way to 20 points, or about twice his season average. Trey Burke also more than doubled his season average with his 29. Kemba Walker's 43 is 15 above his average. Donovan Mitchell's 28 is eight above his average.
The Celtics' perimeter defense has been shoddy, and everyone is in line to get torched. Let's go back to Barea last night.
Terry Rozier and Al Horford aren't clear on the pick and roll defense that needs to be played in that situation. Rozier had been picked on by Barea for a lot of the night, but the lack of communication is the biggest killer here. Boston's vaunted defense gave the smallest guy on the floor an uncontested layup in a critical end of quarter situation.
Something is clearly wrong with this team, and it's not talent. They have gone long stretches where lazy play and lack of communication has hurt the team on both ends of the floor. Often, the Celtics will fix one problem and then create another. The only common thread is that better effort seems to be the solution.
After last night's game in Dallas, Jaylen Brown admitted the on-court chemistry isn't fully there yet. Brad Stevens has a lot of work to do to help figure out how to push the right buttons on these guys to get them all to buy into what they need to be doing.
Lineup changes
We mentioned in this space last week that Gordon Hayward would be willing to go to the bench if he was asked. Well, he was asked. Aron Baynes started in his place for the past four games (Hayward rested his ankle last night in Dallas) and this seems to be the way Boston wants to go for the immediate future.
Brad Stevens says he like the combination of Hayward and Morris and he has been subbing both of those guys into games together in first quarters since the switch. It's something to watch develop as the Celtics try to figure out who does and doesn't work well together.
We hope Jaylen is OK
Jaylen Brown took this nasty fall late in the Dallas game.
He talked to the media afterwards and said X-rays were negative, but we'll have to keep an eye whether this keeps him out at all.
Speaking of injuries, Horford missed the Hawks game with a sore left knee, which is something he says has been lingering and sitting out the game was more precautionary as a way to prevent things from progressing.
Beware of rumors!
There's a report suggesting an in-season trade between Boston and New Orleans for Anthony Davis is possible, but there is a salary cap technicality that makes that almost impossible. The so-called "Rose Rule," under which teams could sign players who met certain criteria to five-year max extensions that paid them 30 percent of the salary cap.
It was originally introduced as a way for teams to keep their budding young superstars by paying them more than anyone else. At the time Derrick Rose was the only player eligible for it, so that's how it got its name.
One quirk is that teams are only allowed one Rose-rule contract on their roster at any one time. Among the other players who have since qualified for, and received, that extension are Kyrie Irving and Anthony Davis.
So…
Irving and Davis can't play on the same team while they are both on their "Rose rule" contracts. That means Boston can't trade for Davis this season unless Kyrie is shipped out. However, once Irving opts out of his deal next summer and signs a new one, he can play with Davis. The Rose rule only applies to the life of the extension.
Keep this nugget tucked away for the next time silly rumors pop up. Trust me, there will be a next time.
Up next
Speaking of New Orleans and Anthony Davis, the Celtics visit the bayou Monday night to face the Pelicans. Davis is dealing with a hip injury, so it's unclear if he'll play. Boston will get a few days off after that before a home/road back to back against Cleveland and Minnesota.