LeBron James scored 28 points and Brandon Ingram added 19 as the Los Angeles Lakers rallied from a first-half deficit for a 114-103 victory over the visiting Dallas Mavericks.
Friday night's results
Cleveland Cavaliers 95-128 Boston Celtics
Utah Jazz 119-111 Charlotte Hornets
Chicago Bulls 88-107 Detroit Pistons
Washington Wizards 98-123 Philadelphia 76ers
Memphis Grizzlies 131-125 Brooklyn Nets
New Orleans Pelicans 101-106 Miami Heat
Atlanta Hawks 109-124 Oklahoma City Thunder
Houston Rockets 136-105 San Antonio Spurs
Orlando Magic 99-85 Phoenix Suns
Dallas Mavericks 103-114 Los Angeles Lakers
Denver Nuggets 113-112 Portland Trail Blazers
Kyle Kuzma scored 15 points with 12 rebounds as the Lakers answered consecutive defeats earlier in the week with victories on back-to-back days following the win against the Indiana Pacers on Thursday.
The Lakers outscored the Mavericks 61-45 in the second half and held Dallas to just 17 points in the third quarter.
Harrison Barnes scored 29 points and Dwight Powell added 17 off the bench for the Mavericks, who saw their three-game winning streak come to an end. Dallas started with seven victories in their previous eight games.
The Mavericks got off to a fast start, taking a 17-6 lead four minutes into the game and lead by as many as 15 points in the second quarter before the Lakers finally started to chip away at the deficit.
The Lakers trailed 58-53 at half-time, then opened the third quarter on an 8-2 run to take a 61-60 lead and held a 78-75 advantage heading into the fourth quarter.
Tyson Chandler added 13 points and 12 rebounds for the Lakers, who have won five of their last seven games and nine of their last 12.
Houston Rockets 136-105 San Antonio Spurs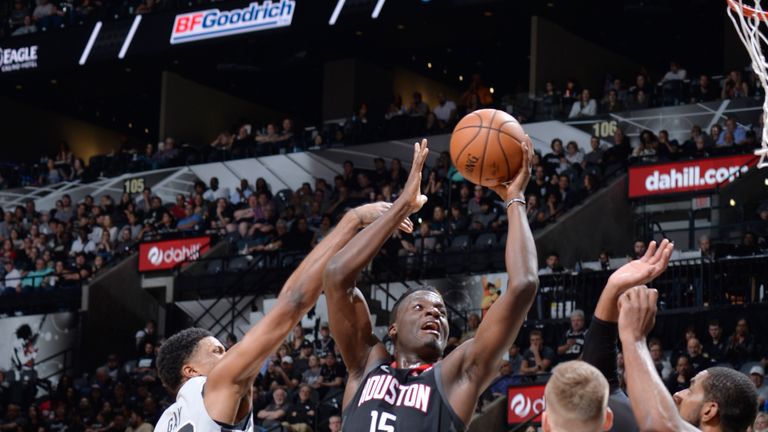 Clint Capela scored 27 points as the visiting Houston Rockets routed a reeling San Antonio Spurs 136-105.
The Rockets, with point guard Chris Paul back in the lineup after three games out with a hamstring injury, took a 70-47 lead into halftime and never looked back as they emphatically ended their four-game losing streak.
It was the second straight blowout loss suffered by the Spurs, after the 128-89 defeat in Minnesota earlier in the week, and it marks the first time since 1987 that the Spurs have lost consecutive games by 30 or more points.
San Antonio has dropped five of its past seven games and eight of the 11 games played since beating the Rockets on November 10.
Memphis Grizzlies 131-125 Brooklyn Nets
Mike Conley scored 13 of his season-high 37 points in the second overtime, as the Memphis Grizzlies recorded a wild victory over Brooklyn Nets, who have now lost six in a row at home.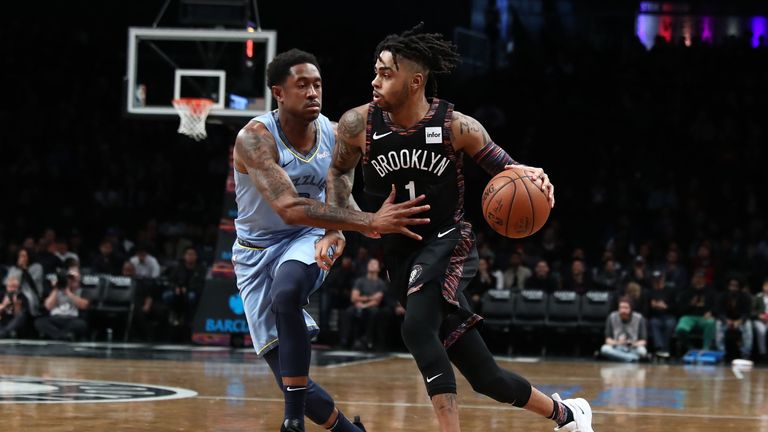 Rookie Jaren Jackson scored a career-high 36 points, and his 3-pointer with 15.9 seconds left in regulation forged a 111-111 deadlock and forced overtime.
He had cut the deficit to three just 12 seconds earlier by converting a four-point play.
Conley hit the game-tying basket with nine seconds left in the first overtime to forge a 117-117 tie. Then he scored all but one of Memphis' points in the second overtime. Conley finished one point shy of his career high as he shot 13 of 25 and also handed out 10 assists.
New Orleans Pelicans 101-106 Miami Heat
Josh Richardson scored a team-high 20 points – including a key drive with 26 seconds left – as Miami Heat ended a six-game home losing streak by defeating New Orleans Pelicans 106-101.
Pelicans star Anthony Davis scored 41 points, 19 of them in the third quarter.
It was his third game of at least 40 points this season. New Orleans guard Jrue Holiday added 21 points and eight assists.
Miami led by as many as 31 points in the second quarter and then held on to snap its longest home losing streak since 2008.
New Orleans got as close as three points late in the fourth quarter. Dwyane Wade provided 18 points off the Heat bench.
Denver Nuggets 113-112 Portland Trail Blazers
Gary Harris scored 27 points as visiting Denver Nuggets defeated the Portland Trail Blazers.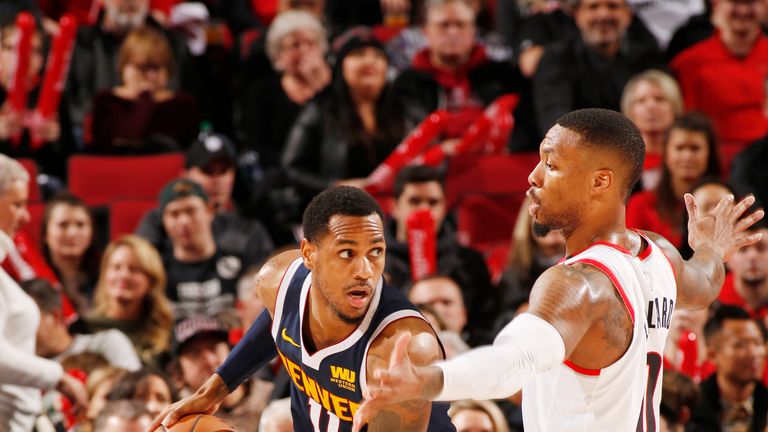 Paul Millsap contributed 22 points and 10 rebounds and Nikola Jokic added 15 points, eight assists and six rebounds as the Nuggets won their fifth straight game.
CJ McCollum bombed in 33 points but missed a jump shot that would have been the game-winner at the final horn as the Trail Blazers fell for the sixth time in nine games.
Al-Farouq Aminu chipped in a season-high 20 points for Portland, which trailed by as many as 17 points in the second quarter.
Washington Wizards 98-123 Philadelphia 76ers
Joel Embiid scored 16 points and grabbed 15 rebounds, recording his league-best 22nd double-double, as hosts Philadelphia 76ers dismantled the Washington Wizards.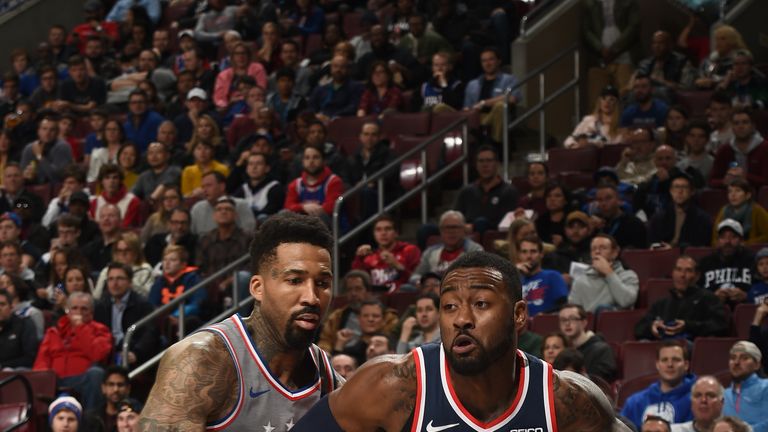 Ben Simmons had 13 points, 10 assists and eight rebounds for his 15th double-double this season. Eight Sixers reached double figures in the win, half of them reserves, as they improved to 12-1 at home record and won their third game in a row.
Bradley Beal scored 19 points for the Wizards, who fell to 2-9 on the road and dropped their second straight. They played without center Dwight Howard, who could be lost for several months after undergoing back surgery.
Utah Jazz 119-111 Charlotte Hornets
Kyle Korver scored 14 points off the bench, 12 of those from 3-pointers, in his first game back with Utah Jazz who overpowered hosts Charlotte Hornets 119-111.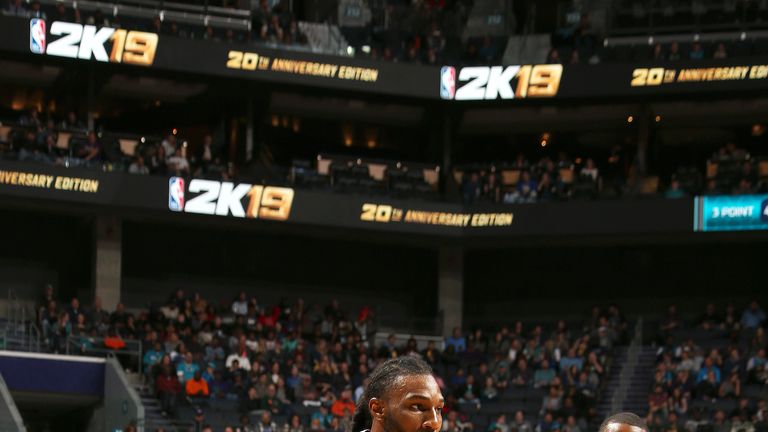 Donovan Mitchell led all scorers with 30, Jae Crowder came off the bench for 24 points and a team-high seven assists.
Rudy Gobert contributed 20 points and 17 rebounds for the Jazz, who had not won at Charlotte since December 2013, when the opponents were then known as the Bobcats.
Jeremy Lamb had 24 points, Kemba Walker 21 and Tony Parker 20 points and a game-high nine assists for the Hornets.
Cleveland Cavaliers 95-128 Boston Celtics
Kyrie Irving scored 29 points, and six other Celtics scored in double figures as Boston Celtics defeated the visiting Cleveland Cavaliers.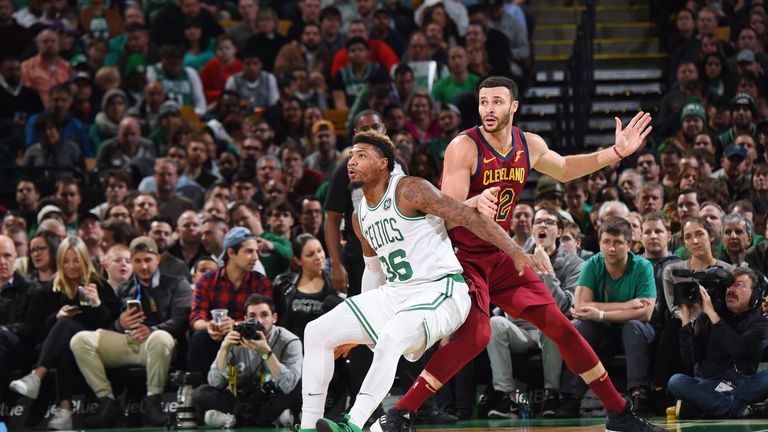 Irving, the former Cavaliers guard who demanded a trade out of Cleveland before last season, haunted his old team to the tune of 11-of-15 shooting from the field, including 5 for 7 from beyond the arc. Irving also grabbed four rebounds and four assists.
The Celtics were deadly from 3-point range, connecting on 17 of 31 attempts.
They recorded season highs in points, margin of victory and field-goal percentage (53.3 percent).
Atlanta Hawks 109-124 Oklahoma City Thunder
Russell Westbrook scored 23 points, finishing one rebound short of a second consecutive triple-double, to lead Oklahoma City Thunder to a win over visiting Atlanta Hawks.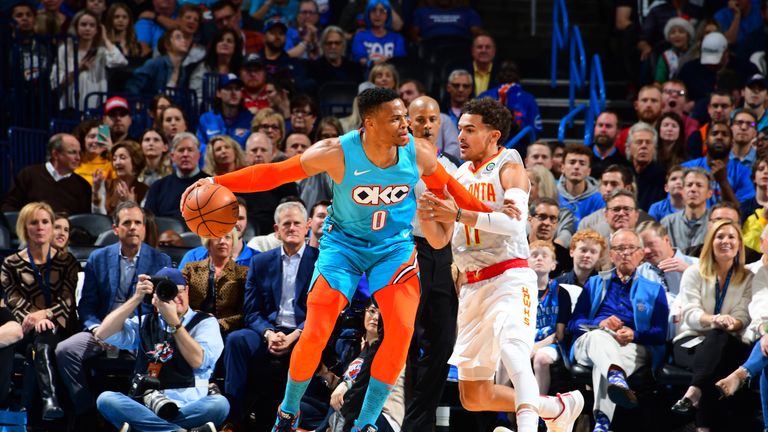 The Thunder took control with a 38-point second quarter, with Paul George scoring 13 of his 20 points in the quarter to help Oklahoma City turn what was a two-point lead into a 20-point cushion by the break.
Alex Abrines hit a career-high seven 3-pointers, going 7 of 11 from the field with all of his attempts coming from long distance to finish with 21 points.
Oklahoma City was 43.9 percent from behind the 3-point line, hitting 18 of 41 shots from distance.
Chicago Bulls 88-107 Detroit Pistons
Blake Griffin had 20 points, 10 rebounds and five assists and host Detroit Pistons extended their winning streak to four games by defeating the Chicago Bulls.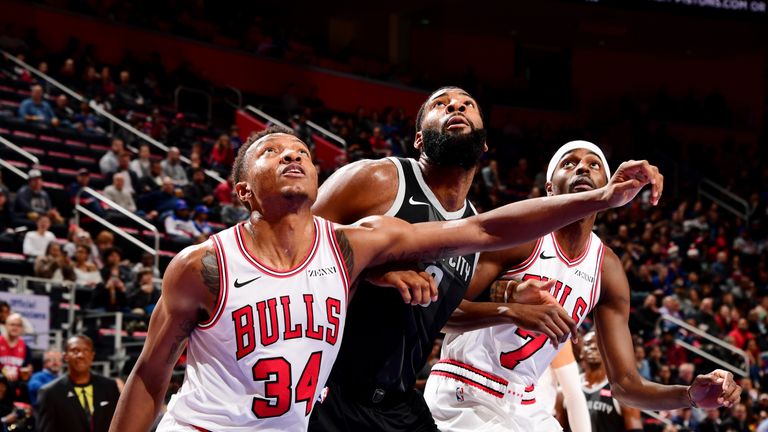 Reggie Jackson also scored 20 points, while Andre Drummond piled up 19 points, 20 rebounds, four blocks, two assists and two steals for Detroit. Reggie Bullock added 13 points and six assists, and Ish Smith tossed in 12 points off the bench.
Rookie Wendell Carter Jr.'s career-high 28 points led the Bulls, who have lost five straight and nine of their last 10.
Orlando Magic 99-85 Phoenix Suns
Terrence Ross single-handedly broke open a tight game with three consecutive hoops in the fourth quarter to propel the Orlando Magic to victory over the hosts the Phoenix Suns.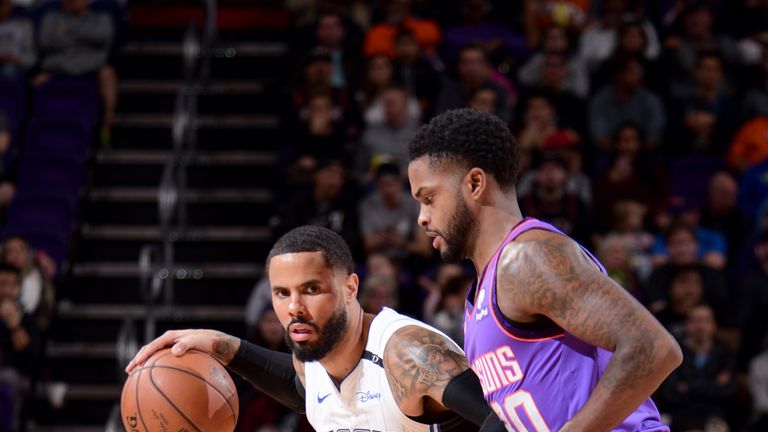 Nikola Vucevic recorded a 25-point, 15-rebound double-double, helping the Magic complete a five-game Western swing with a 2-3 record.
Deandre Ayton had a team-high 19 points for Phoenix, who lost standout guard Devin Booker with a toe injury just before the start of the game. The loss was the Suns' fourth straight overall and seventh in their last eight games.

Live NBA: Milwaukee @ New York


Sky Sports is the new home of the NBA in the UK with live coverage throughout the week, including selected live games free to all Sky subscribers via Sky Sports Mix.
And www.skysports.com/nba will be your home for news, reports, video and features throughout the season while you can follow us@SkySportsNBA