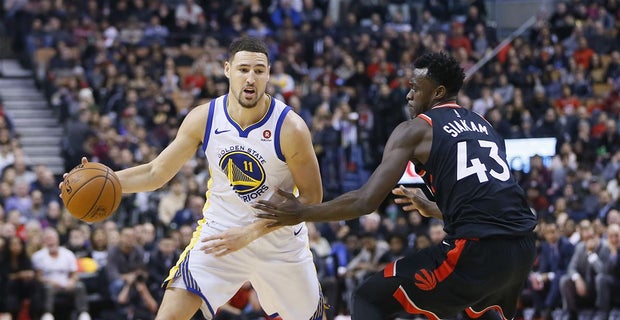 The Golden State Warriors will face off against the Toronto Raptors on Thursday night, and Warriors guard Klay Thompson thinks that the match-up could be a preview of the NBA Finals come June. 
"They got tremendous length," Thompson said of the Raptors, who currently have the best overall record in the NBA at 17-4. "They got so many two-way players, and obviously Kawhi [Leonard] is back and playing at an MVP level .Kyle Lowry is a great leader as well as a bulldog out there. So, it's going to be a great test for us. And who knows? It might be a preview of June. But, they got something really special up there in Canada right now." 
You can see Thompson's comments below, via Mark Medina of The Mercury News: 
Klay Thompson on Toronto: "Who knows. It might be a preview in June." pic.twitter.com/shetZ6M43K


— Mark Medina (@MarkG_Medina) November 27, 2018
Clearly, Thompson has been impressed with the Raptors so far this season, because prior to the season's start Thompson thought that the Boston Celtics might be Golden State's most formidable foe out of the Eastern Conference. 
"I like the team out east in Boston," Thompson replied when he asked about the greatest potential threats to the Warriors. "They got a very nice, young team. One through five, man. They got a team that kind of mirrors ours as far as their length. Guys who can shoot and play defense, and an unselfish way about things. So, I think they are going to be a team to reckon with."
A lot can change between now and June, but at this point it seems like the Raptors have leapfrogged the Celtics at the top of the East, at least in Thompson's mind.