The Boston Celtics seem to be turning a corner. If you've spent too much time stuck in mall traffic or going down deep-discount online shopping wormholes, we've got you covered. Here's a look back at the week that was.
Here's how it went
The Celtics limped into New Orleans fresh off maybe their worst stretch of the season and with an injured Jaylen Brown. He didn't play in any of the past week's games, which gave Brad Stevens an opportunity to do something new with the starting lineup.
With Marcus Smart and Marcus Morris now taking the opening tip with Kyrie Irving, Jayson Tatum, and Al Horford, the Celtics blasted out of the gates with a 22-9 run. They were able to withstand Nikola Mirotic's flame-throwing second quarter and Anthony Davis', well, Anthony Davis-like second half to win, 124-107. Three starters scored at least 20 points, but maybe the most important basket of the night belonged to Gordon Hayward at the 6:14 mark.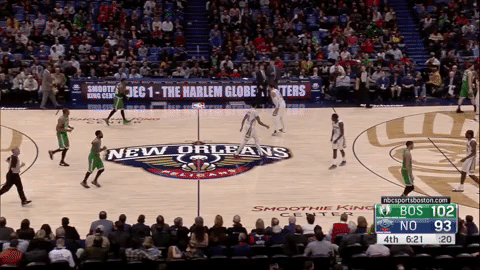 That three not only pushed a Celtics lead back to double digits down the stretch, but it also might be the shot that signaled the beginning of Hayward's turnaround. It was a clean catch-and-shoot corner three for a player who was struggling to make those shots.
Hayward continued to make shots as the Celtics hosted the Cleveland Cavaliers on Friday night. He shot 6-of-9 from the field in a 128-95 demolition of a very bad Cavs team. This game was actually tighter than expected for the first 20 minutes of the game, but the Celtics ripped off a 15-5 run to close the half and then outscored Cleveland by 19 in the third quarter to treat the home crowd to Gino Time. Irving, again, was the man, dropping 29 points in 27 minutes on just 15 shots. Seven Celtics reached double digits.
Last night in Minnesota may have been the coup de grâce for both the Celtics and Hayward's struggles. Obviously purified by the waters of Lake Minnetonka, Hayward had his best game as a Celtic, dropping a 30-point, 9-rebound, 8-assist game off the bench for Boston. It made him the first Celtic ever to put up those numbers as a reserve, and it wasn't just Hayward who enjoyed the night.
📹 @KyleDraperTV talked to @gordonhayward after the C's win and of course the team had to douse him in gatorade 🤣🤣🤣 pic.twitter.com/Q1q92CN6yj

— Celtics on NBC Sports Boston (@NBCSCeltics) December 2, 2018
Hayward wasn't just hot from the field (he hit four of the five threes he took), he was also aggressive (he took 10 free throws, making all 10), and he was instrumental in taking control of a game that was tight early on. The second unit is usually responsible for a second-quarter swoon, but it actually ended up being the Celtics' best quarter of the night on their way to a 118-109 win.
The player of the week
Irving is the choice once again after averaging 25.3 points on 51.9 percent shooting and 48 percent from three. He also averaged 7.7 assists and 1.7 steals. It felt like he hit almost anything he put up.
See Your Boston Teams Up Close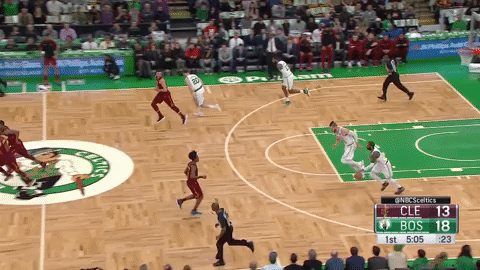 When he pulled up for that shot, nearly everyone in the Garden made some kind of audible "whoa" sound. When he drilled it, everyone knew he was on one that night. Irving finished the week a +20.7 — 5.4 better than the next guy (Smart). The Celtics are just significantly better when Irving is on the floor right now. The team's effective field goal percentage is 5.8 percent better when he's on the floor versus when he's off it.
The week was so good, everything was going his way.
Why not 🤷‍♂️ pic.twitter.com/feJfyXpT6g

— Boston Celtics (@celtics) December 2, 2018
The highlights of the week
This is not just the highlight of the week, it might end up being the highlight of the season.
Play of the year 😍#WinningPlays pic.twitter.com/9sP6u9DWvT

— Boston Celtics (@celtics) December 2, 2018
After the game, Smart would say he saw Tatum running up the sideline when he originally stole the ball, but Karl-Anthony Towns made a great play to strip him of it again. The unsung hero here is Morris, who punched the ball away from Towns.
Of course, the ball finds Smart and Smart does what he does. The rest of the play is just so cool, too. Whenever you're in a bad mood, just put this play on a loop on your phone or computer and watch your stress melt away.
Hayward's big night
Here's when I knew something good was happening with Hayward in Minnesota: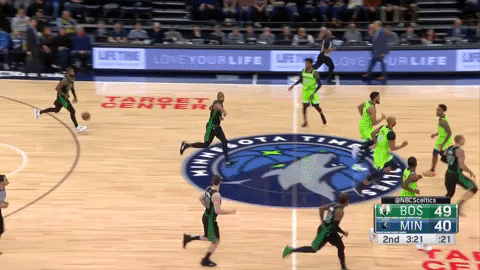 This was his first three of the night, but it wasn't like any other three he'd hit before this season. There was NO hesitation. He just caught it and knew he was going to shoot it. He shot it with such confidence, something that's been lacking through most of the season.
Let's give Horford a lot of credit on this one, too. Watch him right at the beginning of the clip, pointing at Hayward before he even crosses half court. Horford sees how the defense is lined up and he knows all he has to do is set a little pick for Hayward to be wide open. Horford gets credit for a screen assist on this, but his assist came from recognizing the right play from the beginning.
Horford isn't the only guy who has recognized plays for Hayward. The problem has been Hayward has not been aggressive in searching for his own shots. Up until this game, his passing has not only been his biggest strength this season, but also a crutch as he struggled with confidence issues.
He admitted postgame that he's not fully back yet, so we shouldn't expect 30-point games to be the norm, but he seems to be turning a corner.
Tatum is breaking bad habits
One of the Celtics' biggest problems this season has been stretches of individual, isolation basketball that bogged down the offense. The biggest culprits were Tatum and Brown, both of whom were prone to stretches of playing with proverbial blinders on. None was done out of malice, or disregard for teammates, but it had a negative effect nonetheless.
Both have been much better lately, which makes Brown's injury even more unfortunate. Tatum, though, has been noticeably better with his shot selection.
This season, 25.1 percent of his offense has come from catch-and-shoot opportunities, while 40.6 percent have been pull-ups. Pull-up shots come off the dribble, and dribbling a lot means a player isn't passing.
Over the past three games, only 26.8 percent of Tatum's shots have been pull-ups, while 36.6 percent have been catch-and-shoot. Going into this week, a majority of Tatum's shots were taken in the mid-range. This week, he's evenly distributed between threes, restricted area shots, and mid-range shots. That's a significant change in the right direction for Tatum.
Not surprisingly, ditching the individual play has benefited his overall numbers. He is averaging 16.3 points on 44.6 percent shooting on the year, but he averaged 17.3 points on 46.3 percent shooting this past week, which is proof that if you just play the right way, the ball will find you and you will be rewarded.
His shot profile falling more in line with what the Celtics need is a huge boost not just for him, but for the Celtics offense as a whole. As much as Irving being Irving and Hayward finding himself have been great, it's Tatum's return to more efficient basketball that's been a major factor in the offense flourishing.
Marcus Smart: sharpshooter?
Smart is a career 29.6 percent shooter from three. This past week has been one of the hottest stretches of his career.
Smart has hit six of 13 threes over the past three games (all as a starter), good for 46.2 percent.
This is where I'd typically explain why something is happening but…
¯_(ツ)_/¯
Smart has had runs where he's gotten hot before and then he's settled back into missing a bunch of threes. I've always been dumbfounded by his poor shooting because he's a pretty good free-throw shooter. Scouts and analysts have relied on free throw shooting as a great indicator of how a person really shoots, and even people who struggle from the field can find a groove if they're good from the line.
Smart hasn't, though. So this could be just another blistering stretch or maybe, just maybe, it's the beginning of some kind of turnaround.
I'm not going to believe in that yet. It's better to treat this stretch like it's a McRib. Enjoy it for its limited run and then when it's gone, it's gone.
Up next
Boston has four days off before hosting the Knicks on Thursday night. New York represents one of the Celtics worst losses of the season, so I'm sure there's a measure of revenge on their minds. After that, they go to Chicago for a Saturday night game, so this three-game win streak could turn into five or more considering how the schedule is shaping up.