COMMENTARY
The Celtics are back home and fresh off a thrashing of the Chicago Bulls Wednesday. The win was just the elixir they needed after a west coast trip that caused people to pound the panic button like they were playing whack-a-mole.
Maybe the late west coast start times meant you missed most of the carnage. That's OK, because my job is to be your tour guide through the mayhem when you can't catch it all.
Good thing I have a strong stomach.
Here's how it went
The Celtics finished off their trip in Utah and Portland, two teams expected to be fighting for not only a playoff spot in the West but also home-court advantage.
Utah "welcomed" back Gordon Hayward for the first time since he left the Jazz for Boston.
Unfortunately, he couldn't do much to silence Jazz fans. Hayward finished the game with 13 points on just 3-of-9 shooting in a 123-115 loss. The Celtics were without Kyrie Irving, who was attending a family memorial, and they were without a clue in the third quarter when the Utah lead got as high as 20. Joe Ingles torched them for 27 points on 10-of-14 shooting while adding seven assists, many of which fed Rudy Gobert for dunks. Old friend Jae Crowder got a little revenge on Boston with a 20-point, six-rebound, four-assist game.
The Sunday night game in Portland did nothing to ease frustrations. Damian Lillard, one of the league's most dangerous scorers, picked the Celtics apart with his passing in the first half of a 100-94 loss. Jusuf Nurkic was the beneficiary, racking up an easy 18 points off many of Lillard's 12 assists. Jayson Tatum started to find his shooting stroke, dropping 27 points in the loss. Irving returned to put up 21, but Al-Farouq Aminu's late threes held off a strong second half Celtics comeback.
On Wednesday, the Celtics came home to the perfect remedy for their road blues. The Chicago Bulls aren't just a bad team; they came into this game with three of their most important players sidelined with injuries. After a slow start, the Celtics dropped a monster 32-11 second quarter to coast to a 111-82 win. Jaylen Brown's 18 points led a balanced scoring attack with six Celtics reaching double figures. Their defense held Zach LaVine, who came into the game averaging 27.1 points per game to just 10 points on 3-of-11 shooting.
The player of the week
Tatum regained his stroke over the past week, shooting 45.7 percent from the field and 52.4 percent from three. He made 11 three-pointers over the week — five more than any other Celtic.
To put that into some perspective, he'd made 15 threes over his first 11 games of the season, and he was shooting 34.1 percent from deep coming into this three-game stretch. He's also stepping up his defense. He has seven steals over his first 11 games, but he had six just this past week.
Tatum has taken a lot of heat for his offense early on, but that should cool off now that he's making shots. Coming into this week he was shooting 37 percent on open shots (defined by NBA tracking stats as a defender within four-to-six feet) and 38.7 percent on wide open shots (with a defender more than six feet away). Over the past three games, he shot 42.9 percent and 57.1 percent respectively.
The highlights of the week
It's been a rough week and we need to feel better about these guys, so I'll give you two highlights of the week.
First, we'll stick with the Tatum theme. Here he is dropping 12 points in 2:13 by hitting four straight threes against the Portland Trail Blazers.
The second highlight comes from the Bulls game. Mid-way through the first quarter, Jaylen Brown got his hands on a Jabari Parker pass, and then Kyrie got to the loose ball to punch it ahead to Brown for the dunk.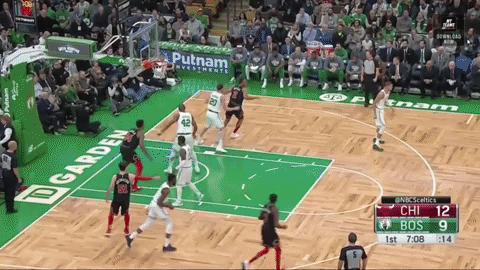 This wasn't just a cool play, it was very helpful in getting Brown going. Easy transition buckets are a great way to get him involved and aggressive, which paid off in maybe his best offensive performance of the season so far. I said last week that Brown might be getting hot, so keep an eye for a more calm and confident Brown on the court.
Encouraging signs from Gordon Hayward
Hayward's return has been a little rockier than I anticipated. It's probably not gone as well as anyone thought, and that's put Hayward in a bit of an unfair position. Not only is he trying to get himself back to All-Star form after one of the most gruesome injuries anyone could suffer, he's trying to fit in with an offense where everyone is a bit unsure of how they all fit.
It's important to preach patience with Hayward and look for the signs of progress even if he's not necessarily getting the results he wants. So here are two encouraging baskets from the Bulls game.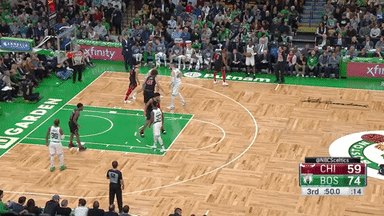 Stepping into a three with confidence is huge for Hayward. He hit a similar one in Utah, but he's been struggling with his shot. Even in the first half of the Chicago game when he played fairly well, the shots just weren't falling and he looked visibly dejected. This three looked good from the start, with a nice one-two step in rhythm straight into a pure stroke that went straight through.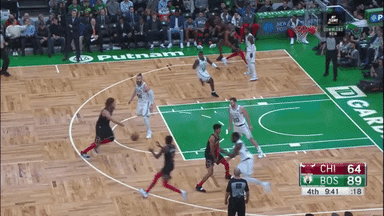 It starts with the defense, it continues with the aggressive attack into the teeth of a defense, and it ends with a finish through contact. This is an especially important step forward for Hayward. The more he gets hit and comes out unscathed, the faster he breaks through and finds his game. He said in practice this week that he feels good, so maybe this is a corner being turned for Hayward.
Lineup changes ahead?
One of the dominating topics of the week has been the possibility of a lineup change. Hayward said he's willing to come off the bench if Brad Stevens asked him to, but I wouldn't expect it even with the Celtics' recent struggles.
The Celtics are really hoping this starting lineup can be their bread-and-butter come playoff time. At their best, this starting lineup can be a ball-moving, attacking, matchup nightmare for teams. They have barely sniffed that level of play so far this season, but they've shown some glimpses of it. I'd expect Brad Stevens to ride out the starting lineup at least for the next month or so.
That said, keep an eye on the lineups. Just because Stevens starts these five guys, it doesn't mean he isn't slyly taking looks at how different lineups work together. Every time he rolls with four starters plus a bench guy, it's giving him data on how certain players impact others. If you're a proponent of a lineup change at the beginning of games, watch those four-plus-one lineups in the middle of games for a glimpse at what the future might hold.
Just because…
Daniel Theis got a haircut and now everyone is quoting Eminem lyrics at him.
Slim Shady !? 🍦☘️🏀🤷🏼‍♂️ pic.twitter.com/YdcuDKGmuG

— Daniel Theis (@dtheis10) November 15, 2018
I don't know how you recover from the official team Twitter account dunking on you.
Up Next
The Celtics have a very tough home back-to-back against Toronto Friday night and Utah tomorrow night, but then things get bit easier. Next week features games against Charlotte, New York, Atlanta, and Dallas.