Blake Griffin scored 26 points as the Detroit Pistons spoiled the return of Golden State Warriors star Stephen Curry by beating the two-time defending NBA champions, 111-102.
Saturday night's results
Milwaukee Bucks 134-136 New York Knicks
Golden State Warriors 102-111 Detroit Pistons
Brooklyn Nets 88-102 Washington Wizards
Toronto Raptors 106-95 Cleveland Cavaliers
Chicago Bulls 105-121 Houston Rockets
Boston Celtics 118-109 Minnesota Timberwolves
Indiana Pacers 110-111 Sacramento Kings
Andre Drummond finished with 16 points and 19 rebounds for Detroit as the Pistons stretched their winning streak to five games.
Curry missed 11 games with a groin problem. He shot 10 of 21 and drained three of nine from beyond the arc to finish with 27 points. But he started slowly, missing his first three shots, all three-point attempts.
Afterwards Curry said it might take some time to get back into the flow.
"I just didn't have the right timing, wasn't seeing the rim that well. The second half was better and I am sure that will carry over each game," Curry said.
Kevin Durant scored 28 points and Klay Thompson added 21 in the losing effort for Golden State.
The Warriors couldn't overcome Detroit's dominance on the offensive boards, with just eight offensive rebounds compared to 14 for Detroit.
A half dozen Pistons finished in double figures. Detroit have now won two consecutive games over Golden State — after losing 12 or their previous 13.
Chicago Bulls 105-121 Houston Rockets
James Harden scored 30-plus points for the sixth time in eight games as the Houston Rockets beat the visiting Chicago Bulls 121-105.
Clint Capela also recorded his eighth double-double in nine games as seven Rockets scored in double figures.
The Bulls dropped their sixth consecutive game and sixth in succession in the overall series with the Rockets.
Zach LaVine led Chicago with 29 points on 11-of-17 shooting while forward Jabari Parker added 21 points and 12 rebounds.
Boston Celtics 118-109 Minnesota Timberwolves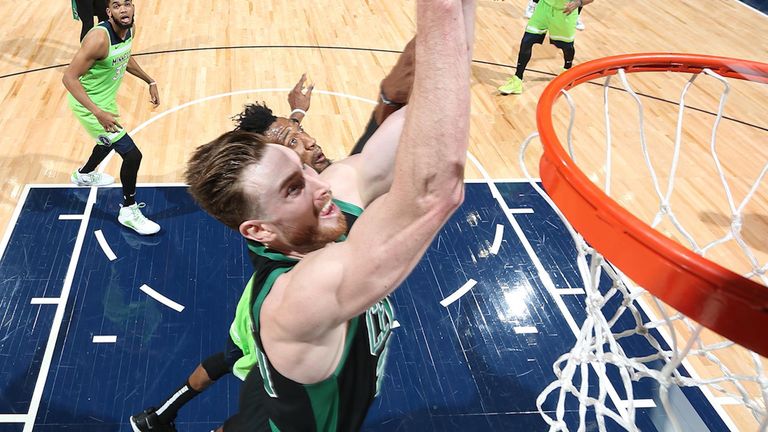 Gordon Hayward enjoyed his best game of the season, scoring 30 points while also adding nine rebounds and eight assists to lead the visiting Boston Celtics to a win over the Minnesota Timberwolves in Minneapolis.
The Celtics extended their modest win streak to three games, getting the last two on consecutive nights.The defeat ends the Timberwolves season-best four game winning streak.
In the first quarter, the Celtics came back from an early seven-point deficit to lead 29-26.
The second quarter saw the Celtics expand that lead to 57-48 by halftime, built largely with nine 3-pointers to the Timberwolves' four.
Hayward (14 points) and Kyrie Irving (12) were already in double figures for the Celtics at the break, while Derrick Rose responded with 12 for Minnesota.
A high-scoring third quarter saw the Timberwolves shave only two points from the halftime deficit. Trailing 89-81 early in the final frame, the T-wolves put together an 8-0 run to tie the game with less than nine minutes remaining.
Boston responded with its own 9-0 run and never looked back.
For the Celtics, in addition to Hayward they got big performances from Jayson Tatum, who scored 19 points and added nine rebounds. Irving also chipped in with 21 points and nine assists.
Jaylen Brown missed his third straight game for the Celtics because of a back injury,.
Milwaukee Bucks 134-136 New York Knicks (OT)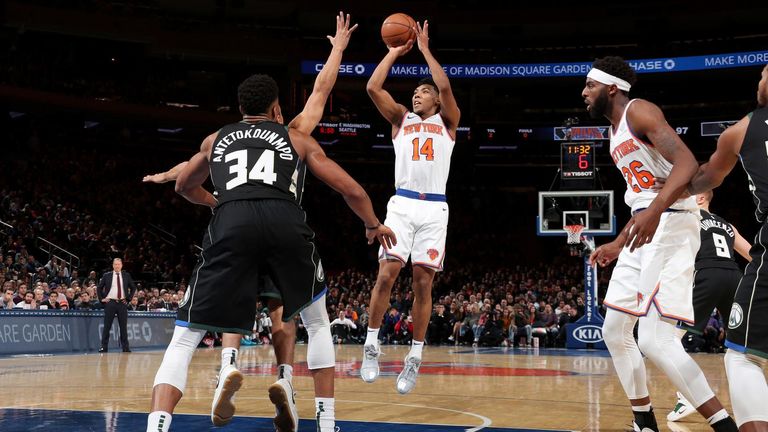 Emmanuel Mudiay scored 16 of his 28 points in the fourth quarter and overtime as the New York Knicks came back to defeat the visiting Milwaukee Bucks.
The Bucks led by as many as 14 points in the fourth quarter before the Knicks stormed back to force overtime.
Kevin Knox added a career-best 26 points for the Knicks. Damyean Dotson and Tim Hardaway Jr. each added 21 points, and Noah Vonleh added 15 before fouling out in overtime.
Giannis Antetokounmpo led the Bucks with 33 points, 19 rebounds and seven assists. Eric Bledsoe added 27 points for Milwaukee, Malcolm Brogdon had 22 points, Brook Lopez 13, and Khris Middleton and Tony Snell 10 apiece.
Brooklyn Nets 88-102 Washington Wizards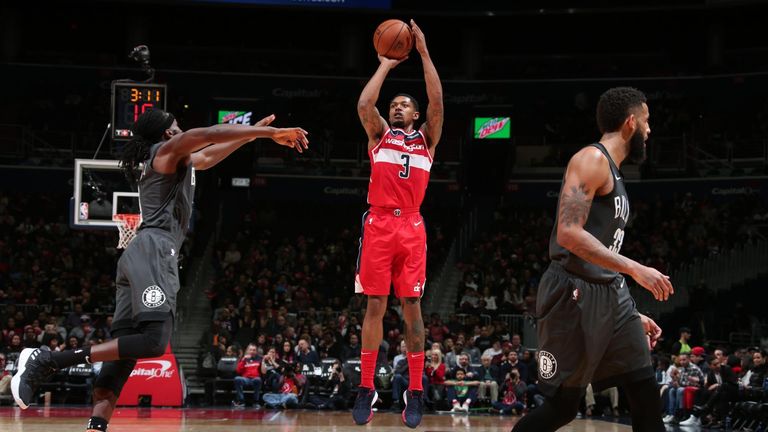 John Wall scored a game-high 30 points while Bradley Beal got 22, and Markieff Morris added 20 off the bench as the Washington Wizards defeated the visiting Brooklyn Nets.
Brooklyn have lost six consecutive games, while the Wizards ended a two-game losing streak.
Wall also finished with nine assists and five rebounds. Beal and Morris complemented him as Washington scored 60 points in the second half.
Allen Crabbe led Brooklyn with 14 points.
Washington took charge at the start of the third quarter. The Wizards scored the first 11 points of the second half and took a 53-39 lead. Wall capped it off with a long three-pointer that forced Brooklyn to call time-out.
The Wizards used a 12-point fourth-quarter run, including nine points from Morris, to seal the win.
Toronto Raptors 106-95 Cleveland Cavaliers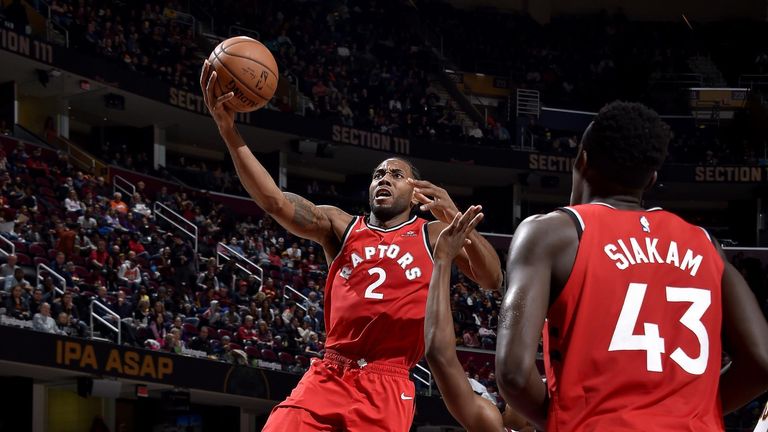 Raptors star Kawhi Leonard scored 34 points as Toronto overcame the absence of all-star guard Kyle Lowry and beat the struggling Cavaliers, 106-95.
Lowry, who leads the NBA in assists, was a late withdrawal with a back injury, missing his first game of the season. The Raptors did not provide any details about his condition.
Fred VanVleet also scored 15 points for Toronto, who won their eighth consecutive contest and improved to a league best 20-4 record. They are 10-2 on the road.
The Raptors have reached the 20-win mark quicker than any other team in franchise history.
VanVleet, who started in place of Lowry, drained consecutive clutch three-pointers with just over two minutes left in the fourth to pad the Raptors lead to 10 points.
Jordan Clarkson and Tristan Thompson each scored 18 points for Cleveland, who lost their fourth in a row and dropped to 4-18 overall.
Cleveland got George Hill back after the starting guard missed 11 games with a sprained right shoulder, but he only delivered eight points.
Indiana Pacers 110-111 Sacramento Kings
Willie Cauley-Stein followed a De'Aaron Fox miss with a dunk with 16.1 seconds remaining to give the Sacramento Kings a one-point win over the Indiana Pacers 111-110.
A 3-pointer by Darren Collison had given Indiana a 110-107 advantage with 1:12 to go before Cauley-Stein stole the ball and Fox made a layup with 35.1 left to get the Kings within a point.
Collison fouled to give gave the ball back to Sacramento with 22.1 seconds left, and the Kings capitalised.
The Pacers had two subsequent shots at a win, but Bojan Bogdanovic misfired on a jumper and, after a jump ball with 1.3 seconds left, Collison couldn't connect on a desperation buzzer-beater.
Bogdan Bogdanovic had a team-high 20 points and Cauley-Stein recorded a double-double with 17 points to go with his game-high 13 rebounds for the Kings, who ended a run of three straight defeats.
Buddy Hield had 18 points, Fox 15, Nemanja Bjelica 13 and Troy Williams 12 for Sacramento.