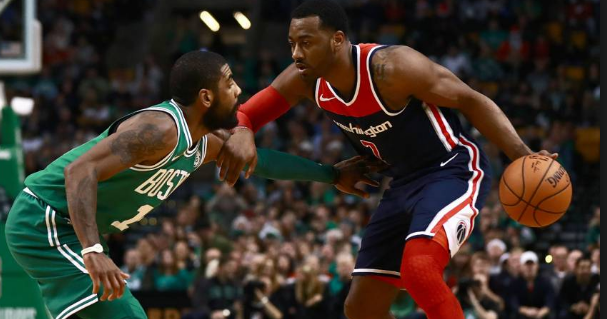 In John Wall's mind, there's no difference between the Washington Wizards and the Boston Celtics.
According to the All-Star point guard, because teams like the Wizards, Celtics, Philadelphia 76ers and Toronto Raptors never made it to the NBA Finals during the LeBron James era, there is no difference between either of the teams, via Michael Lee of Yahoo Sports:
"I feel like we're all equal," Wall told Yahoo Sports recently from his annual backpack giveaway at Barry Farm. "None of them won a championship. This is no knock on no other team. Don't get me wrong. Boston is a hell of a team. Philly has great young talent with those guys [Joel] Embiid, [Ben] Simmons. And Toronto, losing DeMar [DeRozan], they still get Kawhi [Leonard]. Y'all might have been to the Eastern Conference finals, where we haven't been to, but none of y'all were going to the Finals. It was one guy going to the Finals. Ain't nobody separated from nothing. I know one guy that separated himself from the Eastern Conference every year and that was LeBron James and the Cavs. Other than that … if you lose in the second round, or the conference finals, you still didn't get to your ultimate goal.
Wall then continued to say that while the Celtics were great last season, he isn't sure how they'll mesh together with Gordon Hayward and Kyrie Irving back from injury:
"On paper, everybody looks great," Wall continued. "We look great. Boston looks great on paper. But how are all those young guys going to mesh with Kyrie [Irving] being back? Or Gordon Hayward being back? Nobody knows how that's going to work. Now, they've got a hell of a coach in Brad Stevens, and [with GM and president] Danny Ainge, they're going to figure it out. But you still got to put it all together. You've still got to make it work on the court. We don't know how Kawhi is going to work. We know what Simmons and Embiid are going to give you, but it's a new year."
Let's be real here—there is a clear-cut difference between the Celtics and the Wizards. Washington was promptly eliminated in the first round of the playoffs as an eighth seed and they've never advanced further than the semifinals of the playoffs during the Wall era.
Boston meanwhile, has been the No. 1 seed in the Eastern Conference and were within one game away from defeating the LeBron-led Cleveland Cavaliers without two of their All-Star players.
Wall is saying all of the right things as far as trying to boost his team's confidence while playing mind games with the rest of the conference's elite teams, but you'd have to be an idiot to believe that the Wizards are in the same league as the Celtics.
Sorry, John.