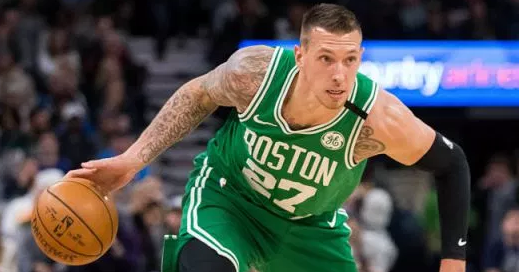 Daniel Theis should be ready by the time the regular season starts.
The 28-year-old big man, who missed the end of the Boston Celtics' season due to a torn meniscus in his left knee, says he returned to the basketball court two weeks ago and is on his way to returning at full strength by the time training camp opens in September:
"I'm getting there," Theis told NBC Sports Boston. "I've been back two weeks. I've been doing new stuff every day."
"I'm just happy to be back on the basketball court," Theis said. "I've been working out the whole summer, lifting in the weight room when I wasn't back home."
Theis added, "A little bit of running outside. Since I'm back (in Boston) … being on the basketball court doing basketball player stuff; it's fun. I'm happy now."
Theis, who played a key role for the Celtics while averaging 14.9 minutes per game, spoke of how difficult the injury was for him personally:
"First of all, I learned how to be patient," Theis said. "I wanted to go back on the court so fast. They told me to be patient, you can't rush the process of healing. I learned that a lot. It was hard watching games on sideline or TV because I wanted to be there. At the end it was so much fun to see those guys, how they played. Every night they give 100 percent whole team, fans, the Celtics organization. Now, I just want to be a big part of this too. I want to be on the court and do the same they did last part of the season and hopefully I can be part of this."
He also spoke of his progression from the injury, saying he should be able to play play 1-on-1, 2-on-2 and 5-on-5 later this month:
"I'm still a little bit away," Theis said. "Every day they put in new stuff. It's the day after that's important to see how my knee reacts. (Wednesday), with more speed. (Thursday) we'll see how my knee reacts. For now, my knee never reacted bad. My main goal is to be ready for training camp."
The 26-year-old big man averaged 5.3 points and 4.3 rebounds in 14.9 minutes per game in 63 games and three starts during his rookie campaign with the Boston Celtics.
With LeBron James no longer being a member of the Eastern Conference, the Celtics are considered the favorites to represent the East in the 2019 NBA Finals. According to oddsmakers, the Celtics have the second-best odds of winning the NBA title, behind the defending champion Golden State Warriors. ESPN projects them to be the second-best team in the Eastern Conference with a projected win total of 53.2 wins.
Having a healthy Theis back will go a long way towards ensuring that the Celtics remain the dominant team in the East.